About This Course
Research for Better Teaching has partnered with Momenta to develop an online course about using literacy data to target instruction to meet students' needs and enhance academic success. This course not only walks you through the tools for effective data analysis and tracking, but also provides guidance on how to build your adult professional culture to allow for rich and open discussion of student data.
The 11 units cover an initial introduction to the course, a review of the data behind the Momenta method, and guidance for how to support an open adult professional culture, followed by detailed steps for analyzing and using the data throughout the year to drive instruction. Each unit is accompanied by explanatory videos, photos, interviews, resources, and multiple examples of real teachers and students in action.
Goals
As a result of the learning experiences in the course, participants will become more cognizant of:
The evidence behind this method and understand what makes this approach different from other courses about data.
The conditions for using data effectively, the role school culture plays, and how teachers can help build a strong professional culture in their school.
How to organize data meetings and essential resources for these meetings.
Create and use specific graphic organizers and manipulatives to help analyze the data.
Understand the importance of taking an urgent approach to both using data to plan and change instruction as needed.
How data can help meet the needs of all students addressing their individual needs, the needs of similar grouped students and the needs of the whole group.
As a result of the learning experiences in the course, participants will become better able to:
Identify assessments to use at data meetings, organize the data, create student data cards, create data charts to display the data, and graphic organizers to analyze the data.
Use the data to group students for small group instruction and understand what skills need to be addressed for each student.
Implement a tiered model for reading instruction - a prevention model that provides an instructional framework for delivering assessment-driven instruction, differentiated instruction to all students.
Comfortably share with colleagues both learning from them and them learning from you.
Develop skills that will make participants stronger teachers by using the data to drive instruction and enabling them to know their students and understand their students' educational needs.
As a result of the learning experiences in the course, participants will become more competent in their ability to:
Demonstrate behavior that reflects concern for the welfare of students; behavior that is compassionate and open-minded both with students and colleagues.
Demonstrate passion for learning and teaching.
Take a leadership role in providing all students a safe, caring and supportive learning environment; one that demonstrates an appreciation of diversity.
Support the existence of a learning and working environment that is collaborative in nature (engaging students, professionals and parents) in an effort to provide a safe talk environment and one that provides excellence in learning opportunities for all students.
Take a leadership role in helping colleagues understand the benefits in using data and open, sharing data meetings in an effort to provide the best education for all students.
The More Than Numbers course gives you a clear picture of the data process through explanatory videos, videos of real teachers in action, and multiple hands-on activities. The course engages and motivates you to take a closer look at your data and to connect with others to collaboratively plan how to meet each student's needs. You leave the course with a better understanding of your data and, more importantly, knowing what to do with the data once you have it. This course truly has so much to offer a school and district.
"
"
Susan Terban

Interim Director of Curriculum, Instruction & Assessment Saugus Public Schools, Saugus, MA
Course Format
This is a self-paced online course comprised of 11 units, which include video examples, readings, reflections, assignments, and checks for understanding.
There are two options for taking the course: With or Without Coaching
The With Coaching version is 50 hours and is eligible for 3 graduate credits, includes a mid-course and end of course project. Participants receive feedback on assignments from our MTN coach, Grace Marie Greeno
The Without Coaching version is 35 hours and is eligible for continuing education units (CEUs) or 20 Professional Development Points (PDPs) (in MA only).
Videos
Introduction to the online MTN course
Jon Saphier provides an overview of the format and goals of the course.
Berkley School Team Reflections
The Fourth Grade Data Team at the Berkley School in MA comment on how the data process has impacted their work.
Resources
I strongly feel that this course is set up for success! The way the material is presented (explanations, materials, videos showing the steps in action, activities and quizzes) is done perfectly so that there is little question about what to do next. The way the facilitator of the course can communicate back and forth through the portal is helpful and leads to deeper learning of the material. The content itself is clear and makes implementing this process with staff feel like something you can do successfully. I highly recommend this course for both its ease of use and the content you will gain from it!
"
"
Michelle Michaud

Assistant Principal and Supervisor of Data, Lawrence Public Schools Lawrence, MA
The Data Behind the Momenta Approach
Research affirms that a child's ability to read proficiently by the end of third grade is one of the greatest predictors of success in school and in life.
Momenta has found that getting kids on track for grade-level reading in kindergarten is directly correlated with achieving grade-level reading by 3rd grade. In fact, high-needs students who complete kindergarten on-track are almost twice as likely to pass the Grade 3 MCAS in English Language Arts than their peers who are off-track at the end of kindergarten.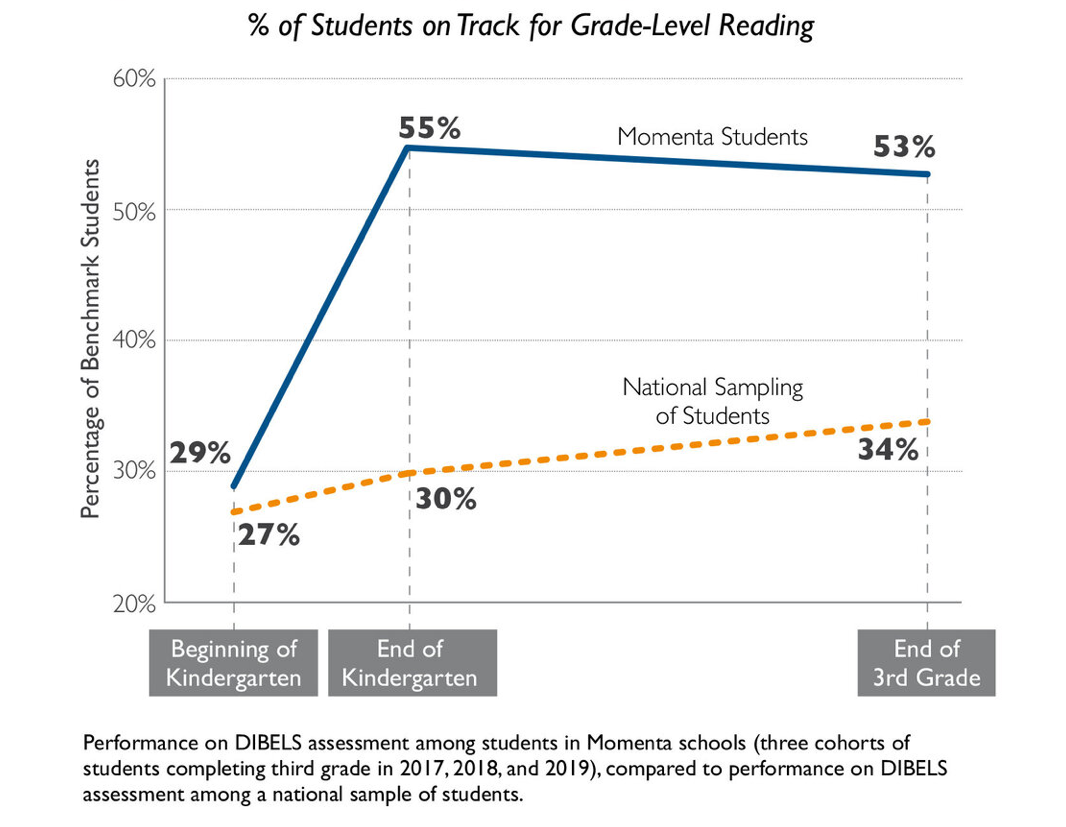 MTN for Your School or District
Interested in signing up a group to participant in the MTN course? Contact us to learn more about running the program for a group of educators.