About This Course
What does expertise look like in conferencing with teachers?
If a conference does not result in instructional improvement and/or increased student achievement, was the conference effective?
What is the relationship among one-on-one conferencing, reflective practice, and a collaborative schoolwide culture of achievement?
The Differentiated Conferencing program instructs supervisors and coaches on how to develop the knowledge and skills to conduct meaningful and actionable conversations with teachers who are at different levels of professional maturity. It helps them build their capacity to have effective conferences with teaches at five different levels of development. Participants will develop a repertoire of skills to apply in situations from non-directive to directive and even to particularly difficult conversations. Supervisors and coaches grow their conferencing skills and match their clients with just-right approaches.
Goals
As a result of taking this program, participants will be able to:
Prepare for and conduct the conference respectfully, with honesty, confidence, courage and clarity of purpose
Develop a personal platform that will increase their confidence and your conviction about what is right for you to do
Increase their capacity to identify the five conferencing styles and to use the ten skills associated with them
Apply their knowledge of the five different styles/ levels of professional maturity as related to diagnosing and solving problems.
Use their knowledge effectively identifying factors that influence teacher learning and pedagogical change
Reflect upon and assess their own practice in differentiated conferencing
Course Format
In this 18 hour, 3 day program participants will conduct, transcribe, share, and self-assess each of the five types of conferences: Non-Directive, Collaborative, Directive Choice, Directive Control and Difficult.
At least one of these conferences should be with a new/inexperienced teacher and one with a veteran teacher.
Audience:
Administrators
Instructional Coaches
Teacher Leaders
District Leaders
Supervisors and Evaluators
Resources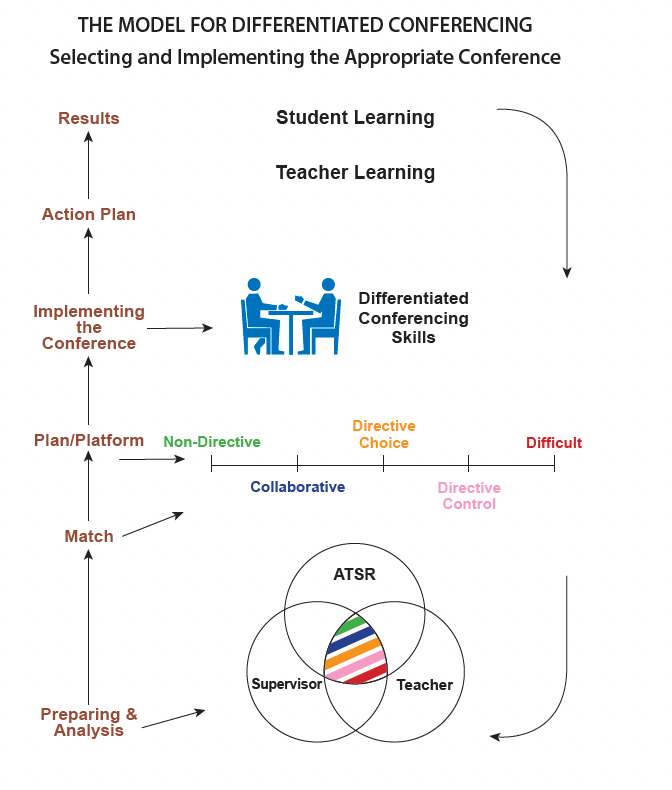 Course Information
Groups of 25 or more: Submit a Service Request to discuss how this course could benefit educators in your school or district.
Individuals or less than 25: Fill out our Open Enrollment Interest Form to be notified of the next open enrollment opportunity.