About This Course
This is a course for:
Administrators
District Leaders
Teacher Leaders
Supervisors and Evaluators
This is a program for leaders on how to improve classroom teaching and learning. Reflecting the national shift towards learning-focused supervision and evaluation, the Analyzing Teaching for Student Results (ATSR) program helps leaders zero in on the impact of teaching decisions on students. During the program, participants examine high-leverage teaching strategies and use both a common language and a concept system about teaching to support any state framework. The seven-day curriculum provides multiple opportunities for participants to develop keen observation and analytical skills that will support teachers in building their own capacity to impact students' learning.
This course reminds you of what you may already know, challenges what you may be thinking, and stretches you to find new perspectives and strategies in becoming the instructional leader you aim to be.
"
"
Goals
One of the most important jobs instructional leaders have is to maximize the ongoing learning of teachers. This is a complex task that takes practice to help improve leader's skills to:
See more
Analyze with insight, and
Communicate better
As a result of taking this program, participants will be able to:
Name, explain, and document what high-expertise teachers know and can do in many performance areas from classroom management to planning standards- based lessons and assessments
Capture salient classroom events in literal notes
Connect teacher behavior and decision-making with impact on student learning
Give teachers evidence-based feedback that builds their capacity as high-expertise teachers and stimulates reflection
Use multiple data sources to assess growth opportunities and help meet new requirements for teacher goal-setting and improvement planning
The Analyzing Teaching for Student Results course improved my skills as a school leader. I have worked in urban public schools for 30 years; 15 as a teacher and 15 as an administrator. This course sharpened my skills and added many new tools to my toolbox. The course's laser focus on student learning outcomes as the primary lens by which to view teacher evaluation is a long-overdue framework
"
"
Course Format
This program consists of practice exercises, video clips, case studies, collegial problem-solving, and fieldwork that emphasize a range of instructional leadership skills. The course also includes a virtual or in-person site visit.
RBT offers this course in a variety of formats:
Virtual: Virtual course schedules are designed to balance virtual synchronous and asynchronous learning and reflection with out-of-class application.
In-Person: In-person sessions are held at the sponsoring district or at a central location for our open enrollment courses. Typically, these are 6 full-day sessions.
Hybrid: A mix of in-person and virtual meetings
Contact us to discuss the format that would best meet the needs of your group.
Resources
Feedback from ATSR Participants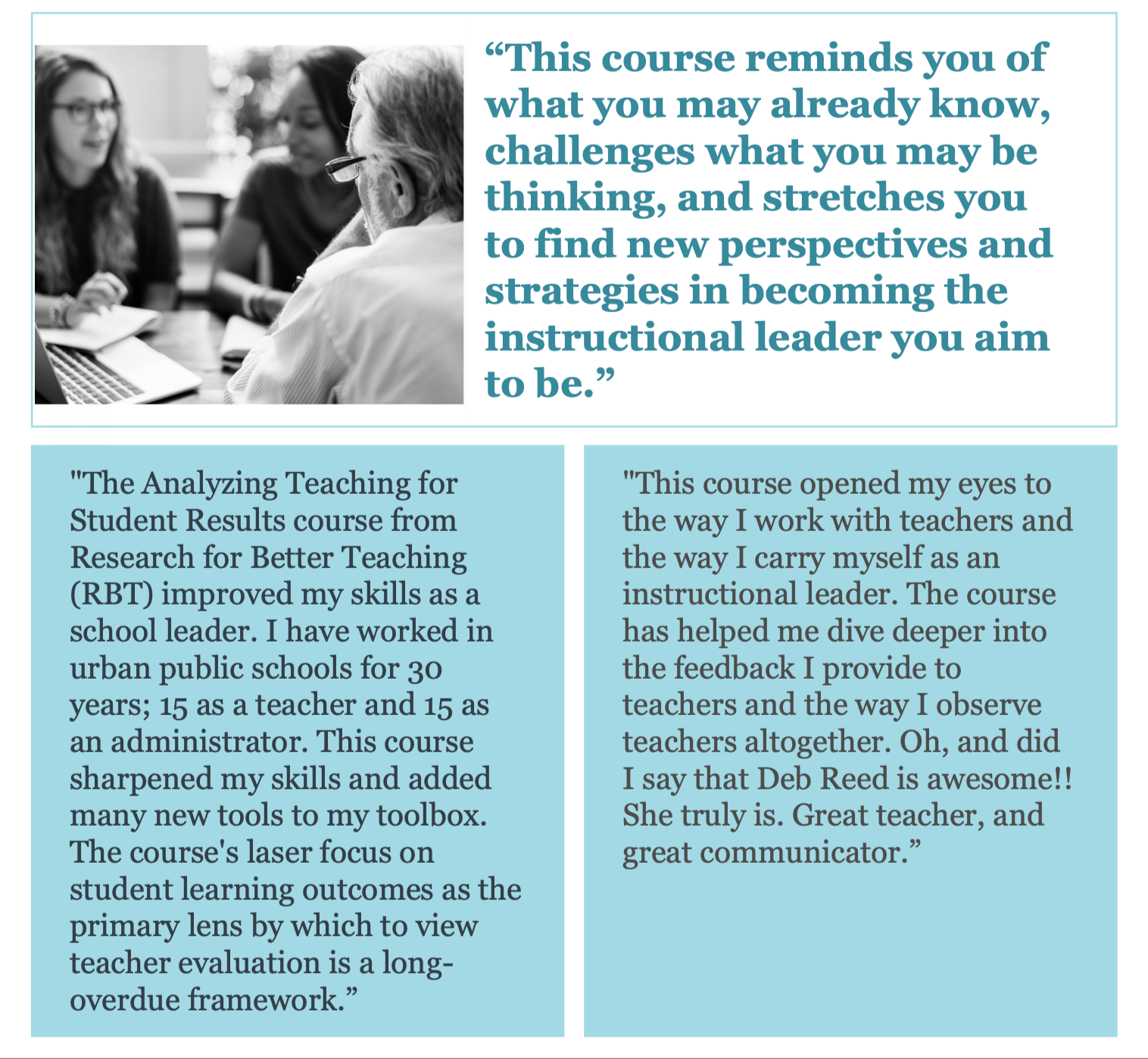 The Strands of Instructional Leadership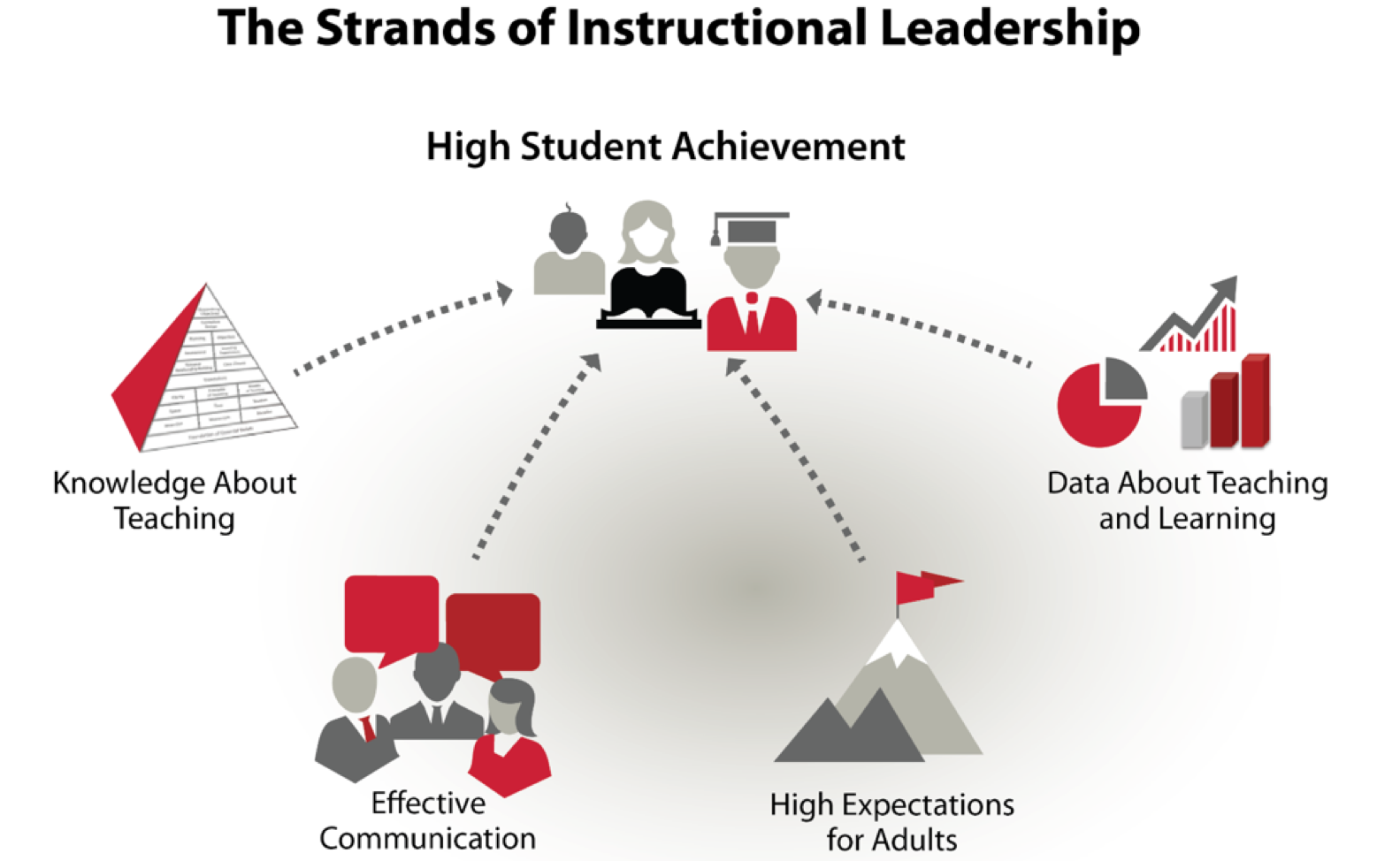 I highly recommend that your district's leadership team engage in this course together. This shared experience will enable your district and school leaders to be all on the same page in terms of knowledge, skills, practices, and a mindset that can transform learning for all students.
"
"
Leadership Impact
RBT works with administrators to build their skills to more deeply understood instruction and become expert in a variety of tasks and skills to ensure the constant improvement of teaching. Participants in our leadership programs consistently report their positive impact on their ability to work as a team to improve student learning.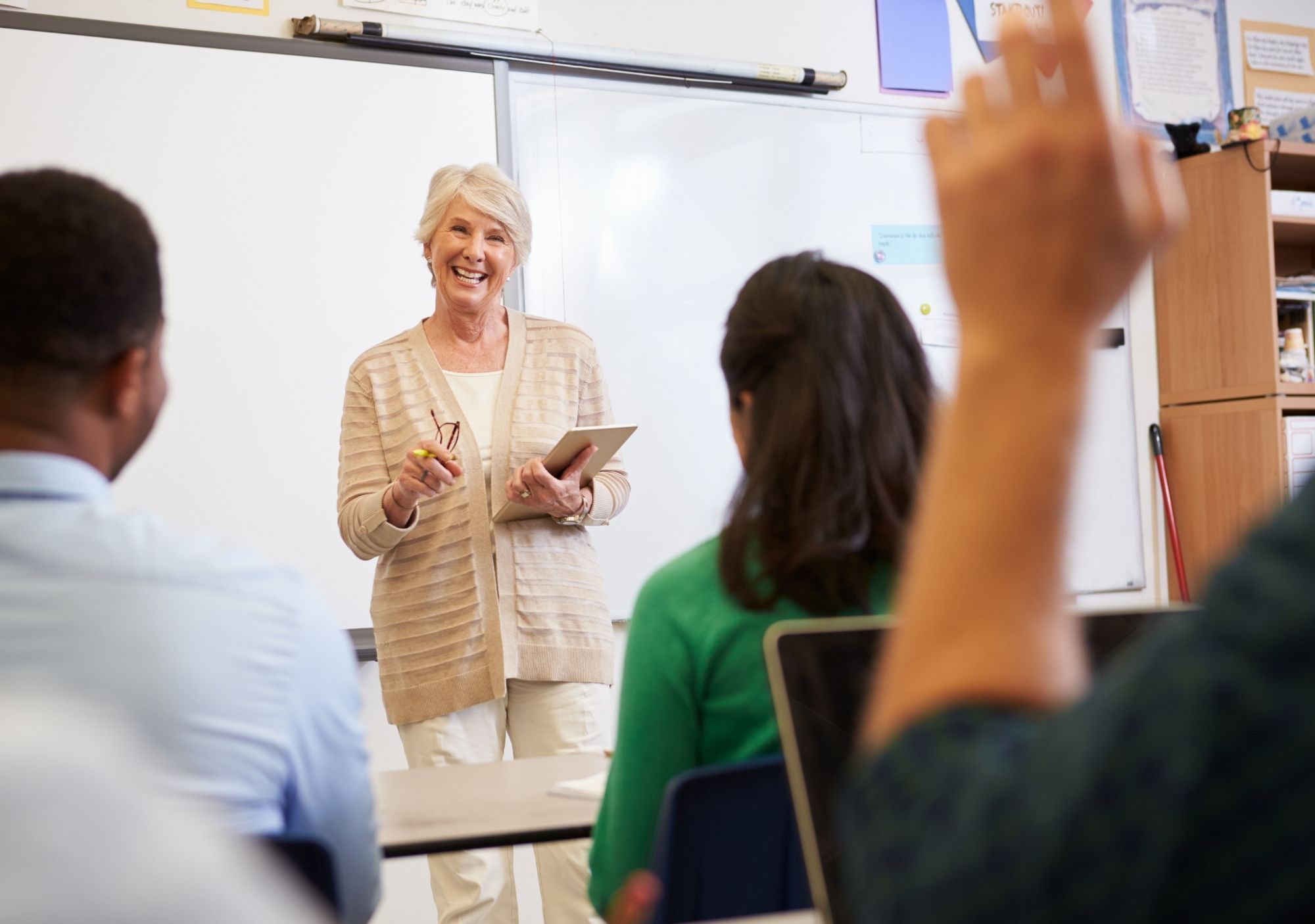 Course Information
Groups of 25 or more: Submit a Service Request to discuss how this course could benefit educators in your school or district.
Individuals or less than 25: Fill out our Open Enrollment Interest Form to be notified of the next open enrollment opportunity.
Credits:Participants completing all program requirements can optionally receive three graduate credits through Fitchburg State University for an additional fee paid directly to FSU. Learn More