What it Takes to be a Skillful Teacher
---
The ten jobs of teaching, listed in Table 1.1, represent just a sample of the incredibly complex and sophisticated skill sets required for successful teaching. These are known, validated elements of successful teaching and learning in the classroom, and they are also not easy to do.
They require deep, sophisticated knowledge to carry out well; far more than we acknowledge in either our requirements to enter teaching or our support systems for teachers once they are employed. Interactive classroom teaching is difficult and intellectually demanding work. The knowledge and skill to perform at a high level far exceed what our voting public and policy makers realize.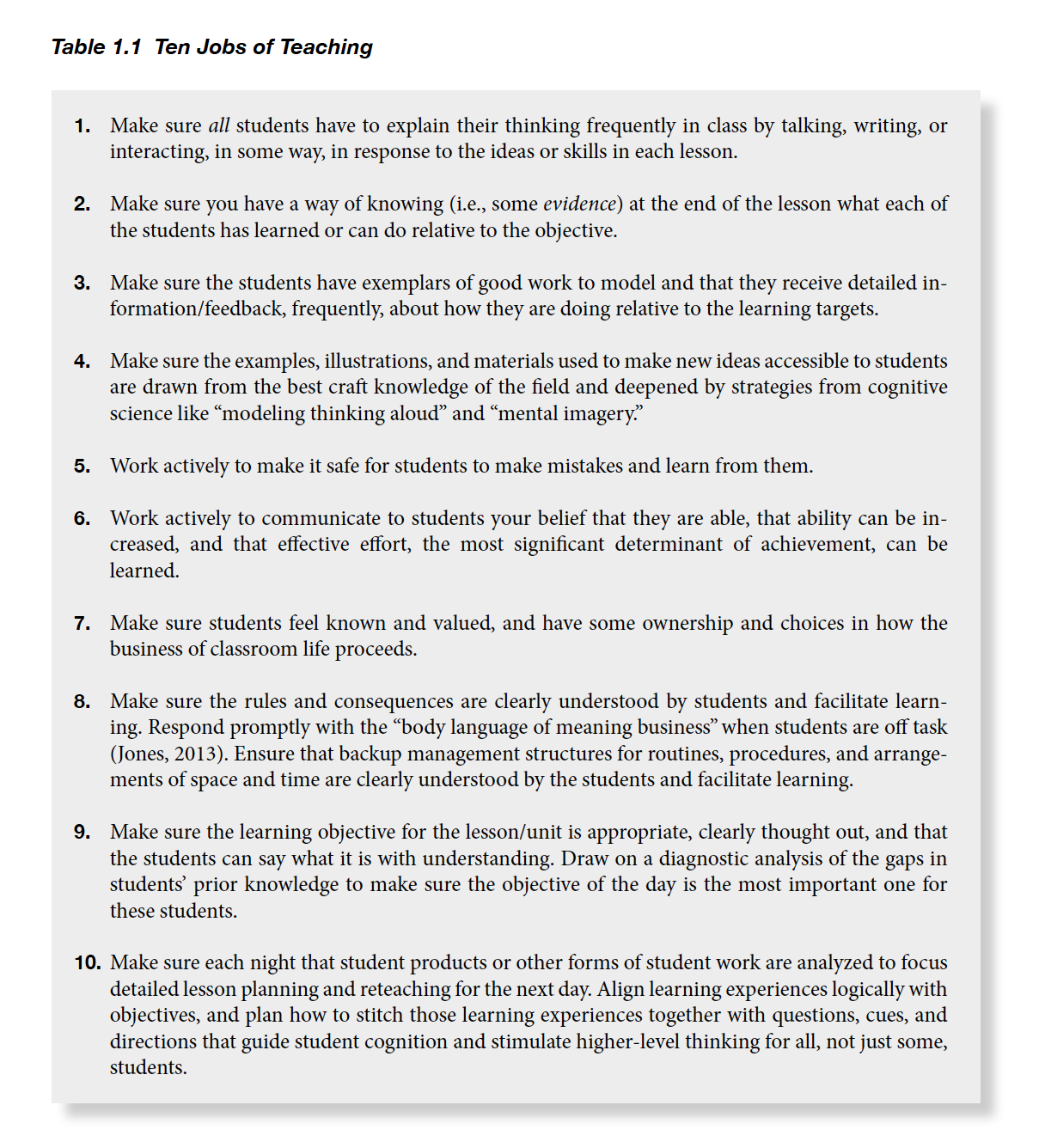 This short video gives an overview of the incredible range called for every day by our committed workforce of educators.
The Many Job Functions of a Skillful Teacher
How The Skillful Teacher Captures Teaching Complexity
In The Skillful Teacher, now getting ready for its 8th edition, we present in drill-down detail a continuously updated encyclopedia of skills equally useful for senior teachers looking for the next-most- important skill to add to their repertoires and beginning teachers setting their foundation of management and planning.
The Skillful Teacher framework has features that distinguish it from others frameworks in the field.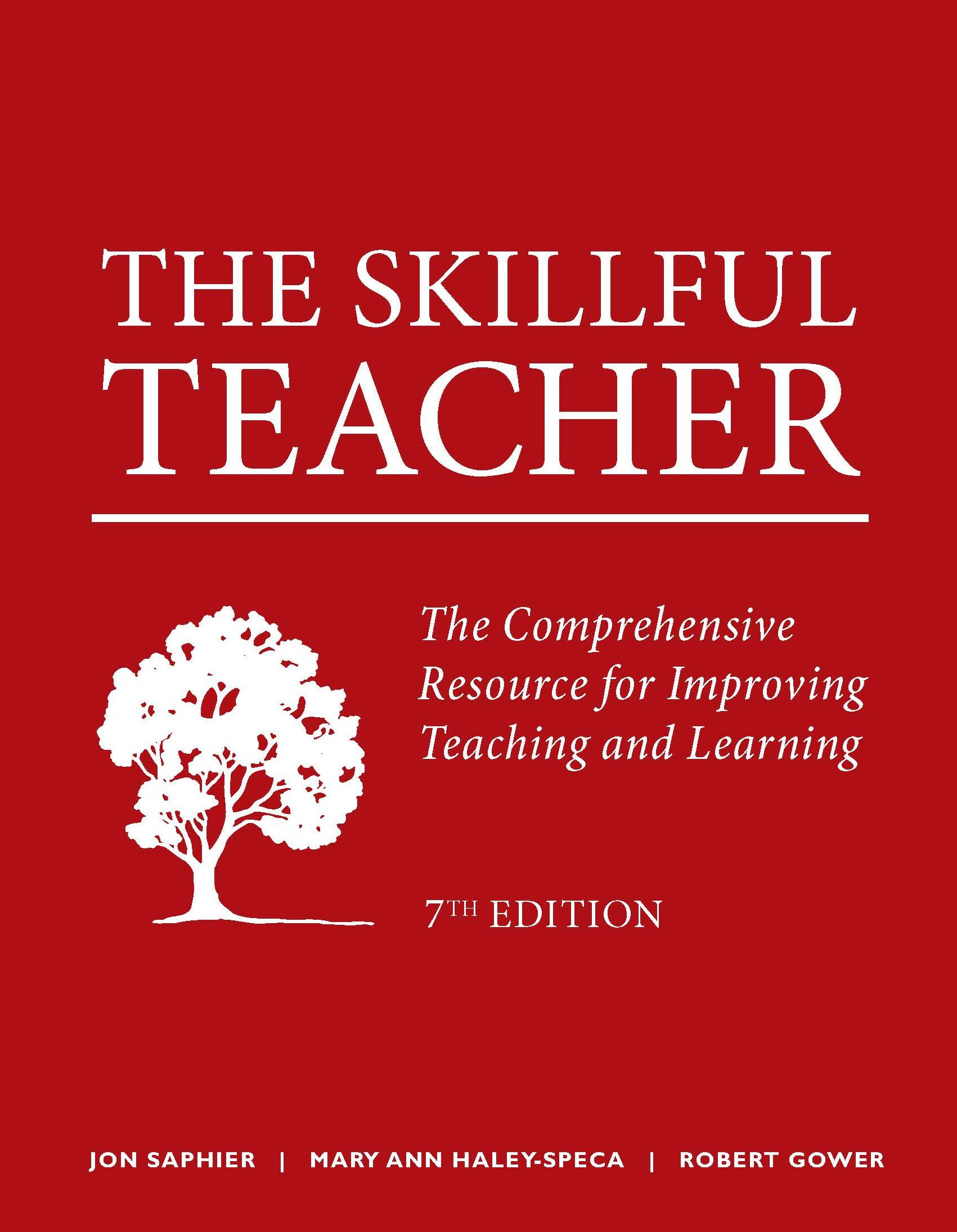 Comprehensive View of Pedagogy Not Found Elsewhere
It contains validated teaching skills not found in other frameworks, e.g.
knowing how to do error analysis of student work for target re-teaching,
interactive skills to convince students they have able brains and can grow their ability
student agency through goal setting/plan making/self-evaluation/self-record keeping
leading robust student discussions at high levels of thinking where all students participate
the 24 Principles of Learning derived from a century of cognitive laboratory science
bringing cultural proficiency to one's daily interactions with students
distinction between standards and expectations
It breaks down abstract statements about teaching skills , e.g. communicates high expectations to all students into the how-to steps of practice and reveals what the behaviors look like and sound like at a drill down level of detail (scripts and videos).
The framework is designed to be a resource for all teachers at any stage of their careers as a source for just-right next professional learning.
At the Cutting Edge of the Field
Teaching skills that show large effect-size become popular topics of professional learning. Each new edition (8th currently in progress) has been consistently ahead of the research summaries that show large effect-size. Examples have been:
1979 Edition – Personal Relationship Building and how successful teachers do it
1982 Edition – Procedural routines that matter and how they can embed more objectives than just management efficiency
Six Models of Discipline for dealing with particularly resistant students.
24 Principles for accelerating the rate and durability of learning found through laboratory research – (e.g., most effective way to do practice, flattening the curve of forgetting, teaching for transfer, application in setting, connecting with meaning….principles that Daniel Willingham periodically reminds is all about in journal articles every year)
1985 Edition – Models of Teaching for teaching thinking skills
1987 Edition – "Teacher Clarity" broken out into its constituent elements with examples of the repertoire for each task, shown in action in video [Framing the learning with objectives a, big ideas and itinerary; activators at the beginning of instruction, criteria for success, a dozen explanatory devices (for example modeling thinking aloud, graphic organizers), persevere and return, 5 kinds of explicitness, cognitive connections, checking for understanding, summarizing)
1997 Edition – Classroom Climate and how to build community & inclusion, confidence & risk-taking, and student voice, choice and influence.
Videos illustrating the skills are posted for free viewing on the RBTeach.com website
The Growth Mindset and how teachers act when they believe in it and want their student to as well
2008 Edition – Quizzes for each chapter included to solidify one's learning
2018 Edition – Leading robust student discussions for all student, not just some, engage in academic talk at high levels of thinking
2024 Edition – forthcoming
Defining rigor and scaffolding it so all students can engage with it
Bringing cultural proficiency to one's daily interactions with students and design of lessons.
Relationship and mutual dependence of certain skills to one another, like Personal Relationship Building to Culturally Relevant Pedagogy, like Rigor to High Expectations Teaching
Scaffolding complex text in the context of High Expectations teaching
Connection of Classroom Climate skills and others to student SEL competencies
Based on Sound Epistemology and Validated Theory about what Professional Knowledge is in any field:
Michael Polanyi's formulation of Moves – Patterns – Abstractions as levels of knowing
Jon Saphier's formulation of areas of performance, repertoires for carrying out the task of each area, and matching one's selection to the student, the curriculum or the context (situation).
It views teachers as decision-makers from research-based repertoires, based on the wisdom of experience.
Beliefs Are Central
The framework explicitly identifies and links critical teacher beliefs with observable practice. Beliefs matter because skill alone won't do it. If a person possesses a significant knowledge and skill base for teaching but believe some students don't have the capacity to learn high level material, one's skill will be unequally applied. Parts of will lie dormant for certain students without the animating belief ability can be grown, that the bell curve of ability is a myth, and effective effort is the key to achievement. That belief empowers me as a teacher to extend themselves to reach students who are behind and appear unmotivated. A related belief is that racism and white supremacy are real forces working against the achievement of BIPOC students. For white educators, "it is my responsibility to study identity development and implicit bias."
Another belief that animates persistence and ingenuity in one's professional learning is that the nature of professional knowledge is decision-making, that is, choosing well from repertoires that exist for accomplishing generic tasks. There's no one right or best way of unscrambling a student confusion or explaining a difficult concept. This notion of professional knowledge as repertoire and matching gives us hope when a first approach fails. And it validates that we are using the wisdom of practice and professional judgment to make these matching choices.
The final key belief is this: "I can get better." That means I recognize the size and scope of the knowledge and skill base for successful teaching, and have the humility to see myself as a constant learner about it, no matter how experienced or successful I appear to be.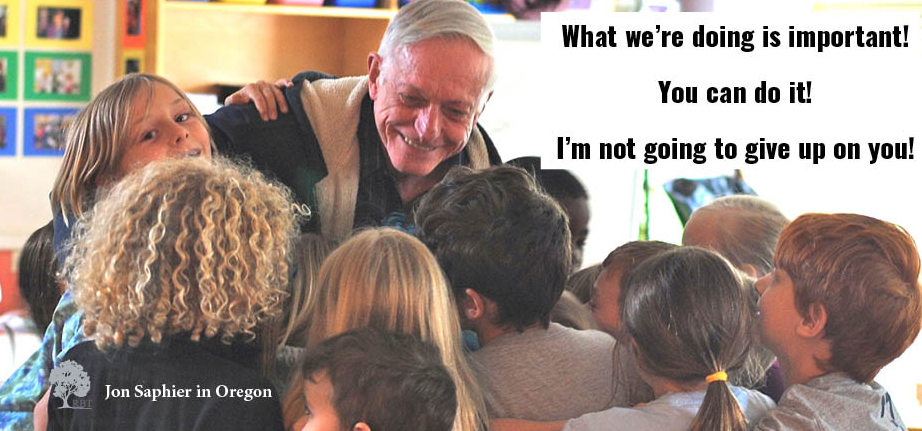 The Skillful Teacher has a wide range of uses across the spectrum of beginning teacher to senior teacher-leader and within the ranks of instructional coaches and principals. College professors find sections valuable for pre-services teachers and other sections most relevant for graduate courses as teachers assume roles as professional developers and team facilitators.
The Skillful Teacher book is one teachers refer to across all the stages of their career. It is not a single read of a one-and-done course curriculum, and those who possess it rarely give it away or lose track of it. It contains how-to skills at quite different levels of sophistication. Beginning career teachers may need to learn the repertoire of attention moves and other management skills from the six areas of performance at the bottom of the triangle; early-career teachers may want to beef up on Clarity - the range of explanatory devices, activators, summarizers and how to merge criteria for success with worthwhile objectives; mid-career teachers may focus more on building community in their classes and become the embodiment of warm-demanders in their daily interactions; well-developed teachers may extend themselves to focus on deep learning, student agency, and into teaching students thinking skills through the Models of Teaching and other advanced parts of the knowledge base. The framework is intended for all teachers as a source for just-right next professional learning.