The knowledge and skill to teach really well is far more extensive and complex than our voters and policy makers realize. It is on a par with that for architecture, law, or engineering. But our teacher workforce is for the most part denied access to this knowledge and skill.
We start every one of our courses by framing the extent and complexity of the knowledge and skill base for successful teaching. We want to build an environment of respect for what our participants already know as well as curiosity and motivation to learn more. No other profession calls for this range of skill.
There is a massive gap between the knowledge and skills we bring to the classroom and the knowledge and skills we should and could have with proper training and support.
"
"
| | |
| --- | --- |
| | The Skillful Teacher, page 3 |
If we take a closer look, we find that teachers are not just responsible for one, but seven knowledge bases of high expertise teaching.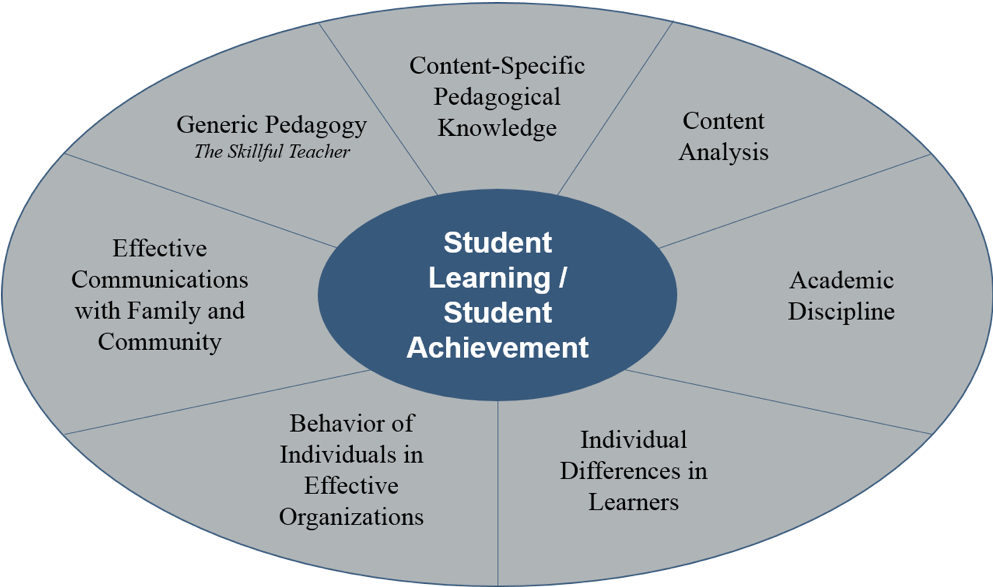 And within each of those knowledge bases are a series of intricate skills to master. No small feat, and perhaps not surprising that 2-3 years of teacher preparation training does not ultimately leave us fully prepared for the complexities of the job. A much echoed refrain at RBT is that teaching requires constant learning to build our skill in each and every one of these areas.
There is more to good teaching than skill, but there is no good teaching without it.
"
"
| | |
| --- | --- |
| | The Skillful Teacher, page 9 |
A Good Teacher
The public view is that all it takes to be a good teacher is to be literate, smart, and have content knowledge. But it really takes a whole lot more than that. Beyond the myriad skills to master, there are also a set of commitments and beliefs that need to be in place to have the greatest impact on our learners.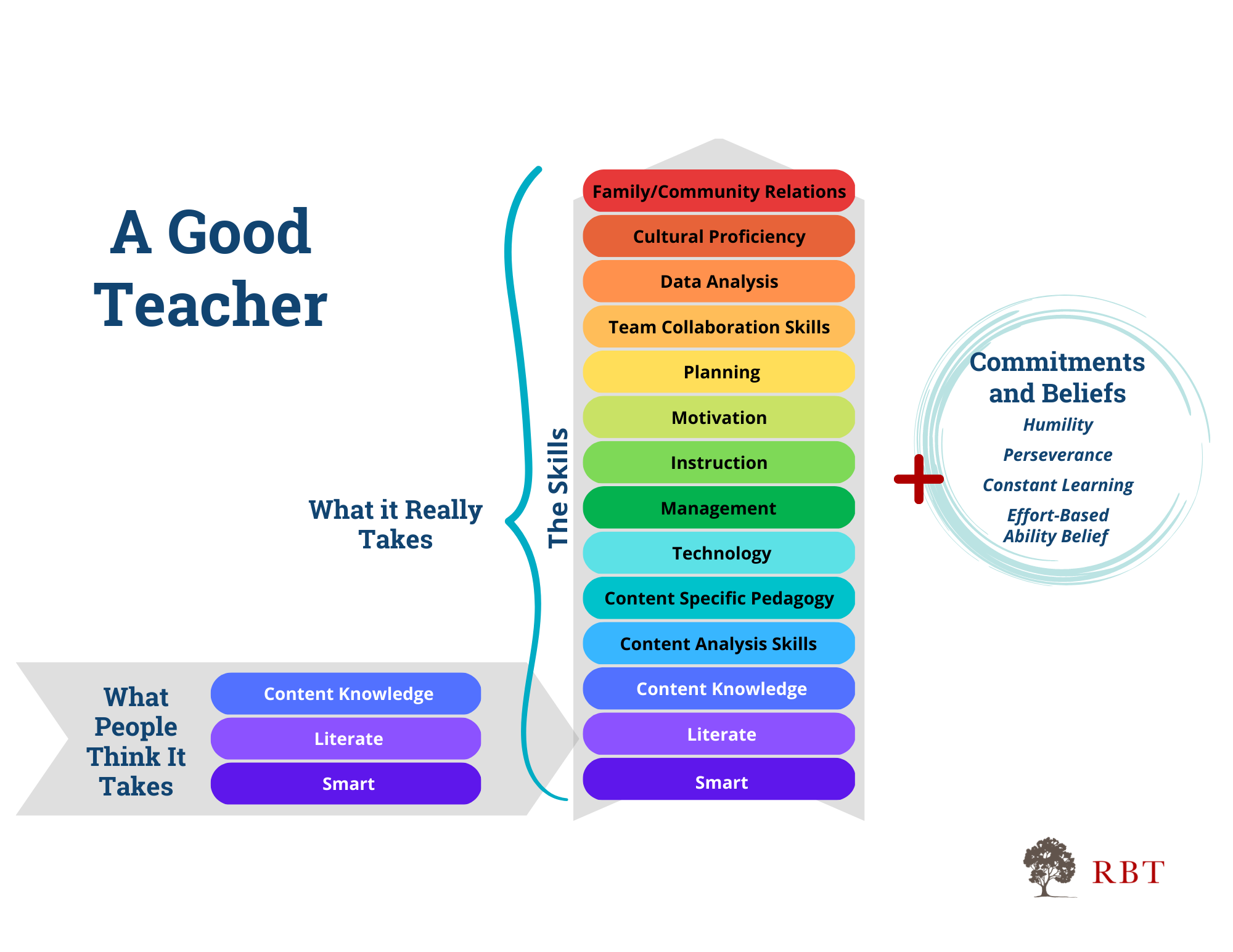 The authors of The Skillful Teacher define a skillful teacher as the following:
Skillful teachers are aware of the complexity of their job and work to be conscious and deliberate about what they do.
Skillful teachers want to adjust and regulate their teaching to have a positive effect on their students.
Skillful teachers are clear about what is to be learned, what achievement means, and what they are going to do to help their students attain it.
Skillful teachers are learners—always a student of teaching.
(TST7, p. 10)
In The Skillful Teacher as well as in our courses, we take a deep dive in the Knowledge Base on Generic Pedagogy - all the skills teachers need to bring students to high levels of achievement. We break this knowledge base into different functions that a teacher must perform:
Curriculum – the blueprint for our work
Motivation – how to we make our classrooms safe spaces for rigorous work through our personal relationships, supportive climate, student agency and setting and communicating our expectations
Instructional Strategies – how we deliver the content
Management – how we organize our time, space etc… to minimize distractions and keep students focused on learning.
All sitting on a Foundation of Beliefs – essential to have in place to effectively build all the other skills.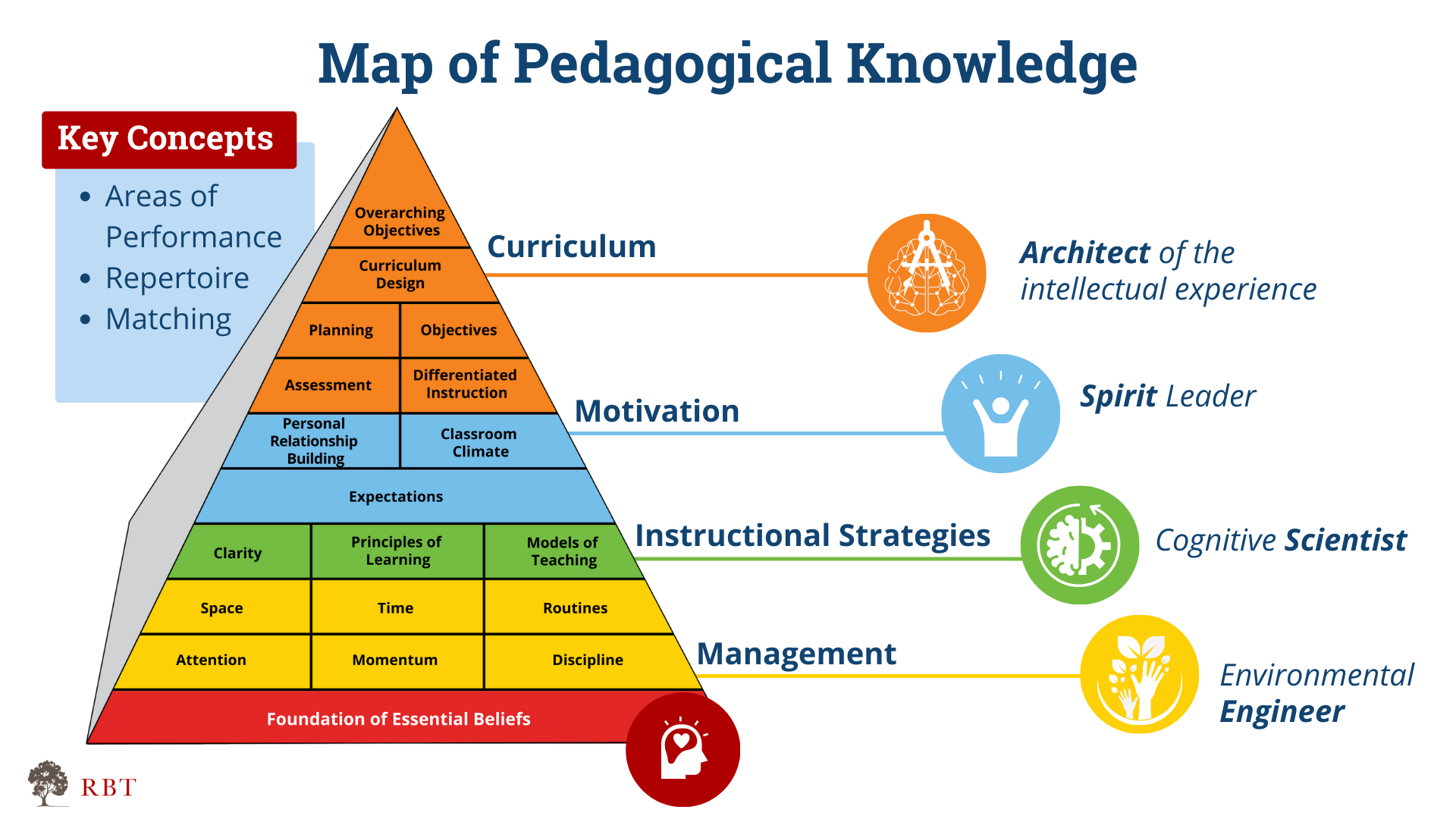 Beliefs
Belief 1: Teaching is intellectually complex, difficult, and demanding work
Belief 2: The nature of professional knowledge is defined by areas of performance, repertoire, and matching, not by "effective" behaviors.
Belief 3: The knowledge bases of a professional teacher are many, diverse, and complex; skillful teaching requires systematic and continual study of these knowledge bases
Belief 4: The development of skillful teaching requires deep collaboration and non-defensive self-examination of practice in relation to student results.
Belief 5: The total environment of a school has a powerful effect on students' learning
Belief 6: Learning is constructed as learners assimilate new experience with prior knowledge.
Belief 7: Learning varies with the degree to which a learner's needs for inclusion, influence, competence, and confidence are met.
Belief 8: Children's learning is primarily determined by their effective effort and use of appropriate strategies. "Intelligence," or the ability to learn, is not a fixed, inborn trait. All children have the raw material to learn rigorous academic material at high standards.
Belief 9: We can get underperforming, low-confidence students to believe in themselves.
Belief 10: Racism in our society and a dearth of cultural proficiency inour classrooms exert a downward force on the achievement of students of color and must be met with active countermeasures. We all need to become culturally proficient and anti-racist.
Areas of Performance, Repertoire, and Matching
Within each of the four functions (Curriculum, Motivation, Instruction, Management) are areas of performance, or as we like to call them, file drawers that house a variety of options that make up our repertoire. For example, in the area of Space there are a variety of ways to arrange student desks within a classroom and which a teacher chooses will depend on the objective for the lesson. Clustered desks support group work while groups of two are better for partners work. A "U" configuration supports discussion, while single rows can minimize distractions.
Effective teaching lies in choosing appropriately from among the options to match given students, situations, or curricula
"
"
| | |
| --- | --- |
| | The Skillful Teacher, page 12 |
Collectively, this all leads us back to the conclusion that teaching is a complex profession with a deep knowledge base that requires us to simultaneously perform multiple roles each and every day. Teachers are:
The Architect of the intellectual experience for kids, designing lessons and learning experiences.
The Spiritual Leader, deliberate about getting students to believe in themselves and creating a classroom climate where all students feel safe and able to achieve.
The Cognitive Scientist constantly collects and analyzes data to inform and chooses from the range of explanatory devices to match content.
The Environmental Engineer who thinks deeply about how to organize time, space and routines to best support learning.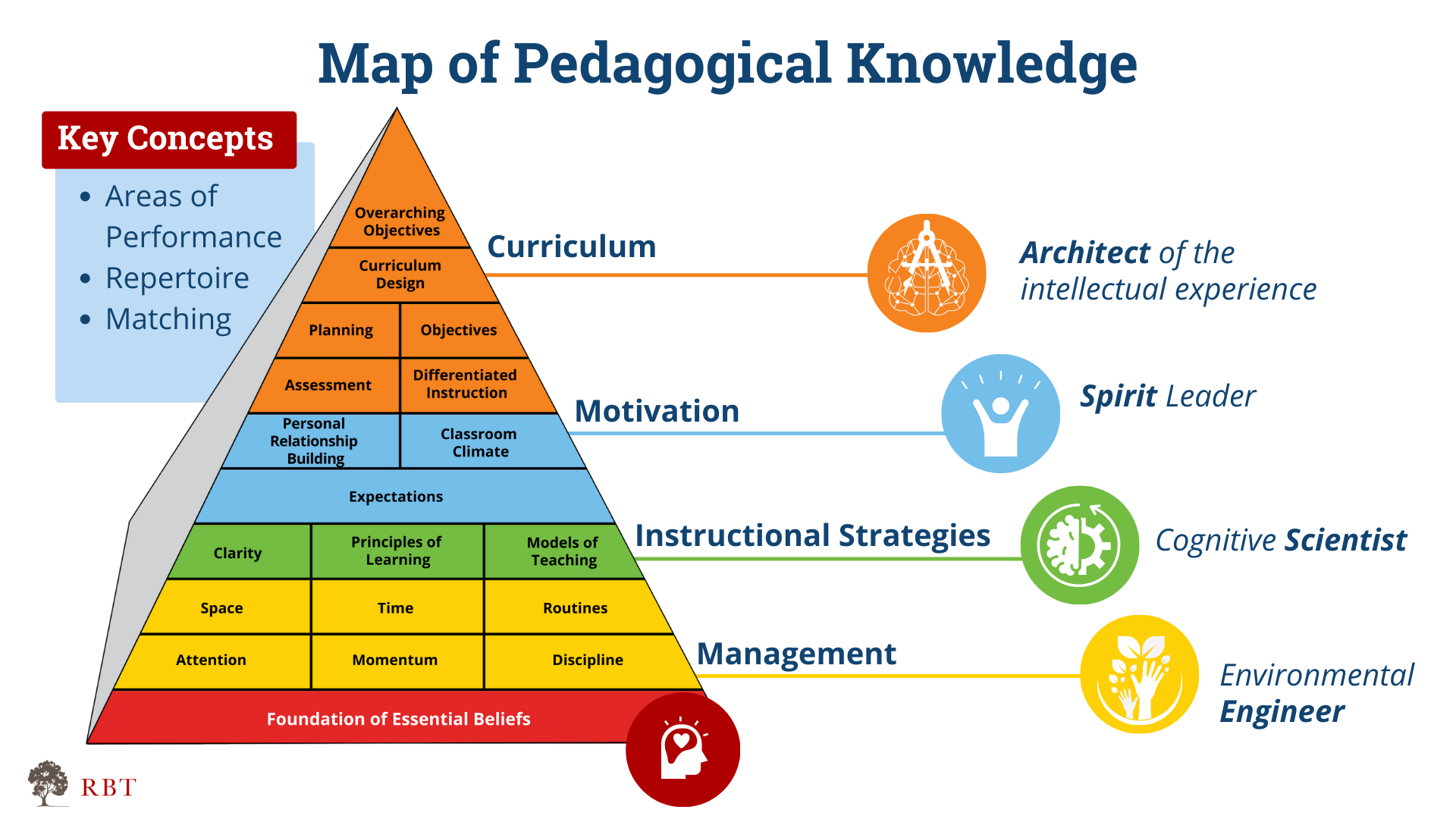 Teacher Functions Video
Jon Saphier gives an overview of the complexities of teaching.
When we recognize the level of professionalism that it takes to be a skillful teacher, and we all work together to collaborate and learn from one another, using a common language as the base upon which our conversations are formed, we can all get better and do better for our students.
Join us this summer for our open courses to continue to expand your repertoire and ability to appropriately match your options to your students, content, and context.