Other articles by related topic:
Morningside Community School's Rent Party Jazz: Empowering Students with a Social Justice Project During the Pandemic
---
Morningside Community School, a high-poverty school in Pittsfield, Massachusetts, began implementing RBT's High Impact Teacher Teams (Teams) in 2018. Over the last few years, teacher teams, alongside their specialist, service provider, inventionist, and administrator colleagues, have used the "Teams'' approach to learn together and put into practice high-leverage practices that raise achievement, particularly for historically marginalized groups of students. This has included increasing discourse in the classroom, facilitating reflection and conversation with students about their own experiences and beliefs, and incorporating opportunities to build exposure to and background knowledge in the content of the texts they are reading through visuals, videos, music integration, and more.
Their efforts paid off, as the school made significant gains in achievement and exited turnaround status. Empowered with a strong foundation in high impact teacher teaming, equipped with the norms, protocols, and a culture of collective efficacy, the educators and administrators at Morningside Community School were able to keep the momentum going despite the pandemic. This year, Morningside teams have continued to rise to challenge, focusing their efforts on making student thinking visible and on culturally responsive practices. As an example, the fourth-grade team carried out an exciting social justice project that attracted the attention of a world-famous jazz musician.
In December 2020, the fourth-grade teachers at the school came together to plan an ELA experience inspired by the story Rent Party Jazz by William Miller from the IntoReading curriculum. This particular story is about a boy and his mother living in New Orleans in the 1930s. His mother loses her job; they are being evicted from their apartment; and the boy has to decide if he should quit school and go to work to help support his family or not. Ultimately, the boy meets a famous jazz musician who introduces him to the concept of a rent party. Rent parties, often featuring jazz and blues musicians, were held by communities to raise money to help families pay their rent by charging guests for attendance; and this is exactly what happened in the story for the main character and his mother. The story makes explicit reference to racial injustice, disparity, and poverty through the lens of a little boy. It is also rich with jazz culture and messaging around the importance of community.
This experience is now a part of their narrative; it is a memory they will be able to reflect back upon as they live their lives. It is something they can hold onto when they think no one cares; they will be able to remember that someone did care. They will be able to remember the night that Questlove threw a "Rent Jazz Party'' for them and they will remember that they were important enough for that to happen.
"
"
Julie Swanson

Reading Interventionist, Morningside Community School
Because the fourth grade team knew the story would connect with their students on many levels, they used their team time to collaboratively plan a week-long learning experience, centered around this rich literature, that embedded connections to music, math, social emotional learning and character development, geography, history, and current events. All of this was done under the overarching theme of acknowledging injustice and inequity and the empowerment of kids to use their talents and skills and collaborate with one another to right the wrongs within their community. Through their collaborative effort to bring the jazz culture of the story alive for their students, the team at MCS connected with world-famous music historian, DJ, drummer and musical director for the legendary Roots Crew, Ahmir Khalib Thompson, also known as Questlove. Questlove and his team were so inspired by the students' interest in jazz and social justice that he offered to get involved!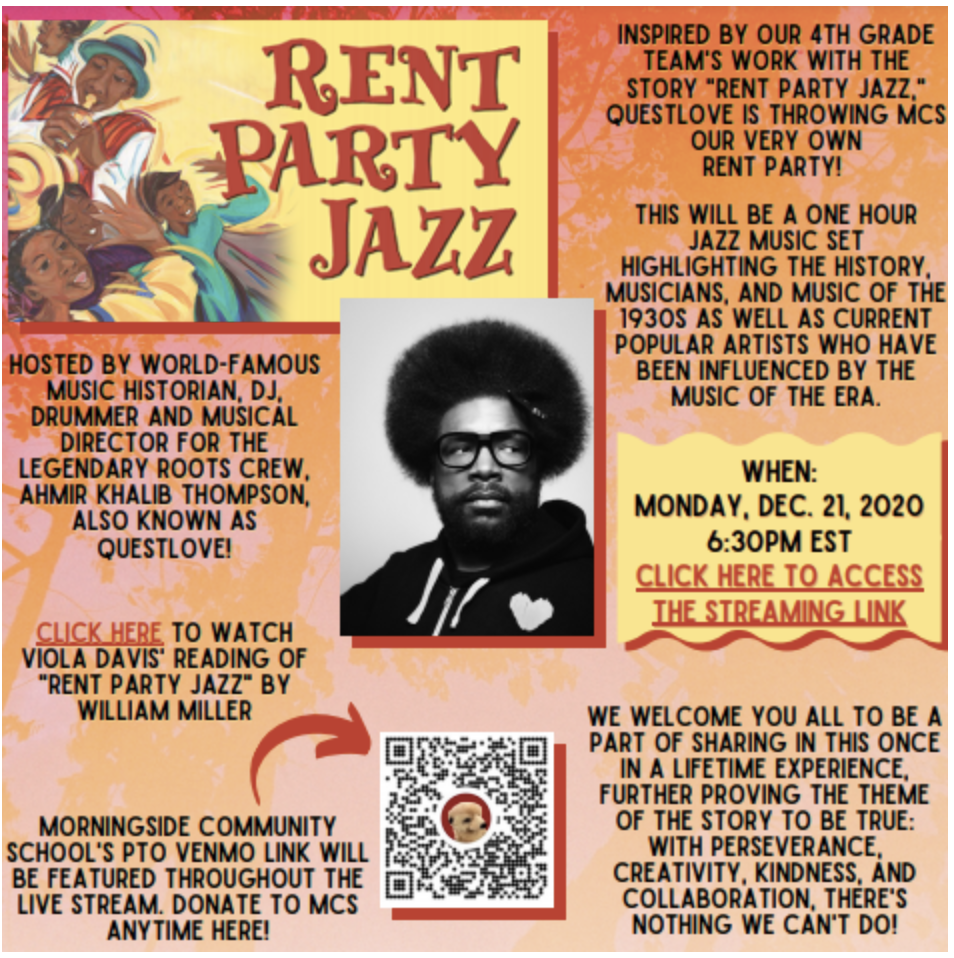 On December 21st, Questlove hosted a "Rent Party" for Morningside Community School to raise money for the PTO. The 80-minute long jazz music set highlighted the history, musicians, and music of the 1930s as well as current popular artists who have been influenced by the music of the era. In the end, this once in a lifetime experience raised more than $5,000 for MCS and further proved the theme of the story to be true: with perseverance, creativity, kindness, and collaboration we all have the power to make a difference. The staff and students at Morningside are now in the process of partnering with local agencies and organizations to put the money to use in a way that will better the lives of the students and families within the community and leave a legacy of paying it forward for many years to come.
Kristen Palatt is the Assistant Principal of Teaching and Learning at Morningside Community School in Pittsfield, MA.